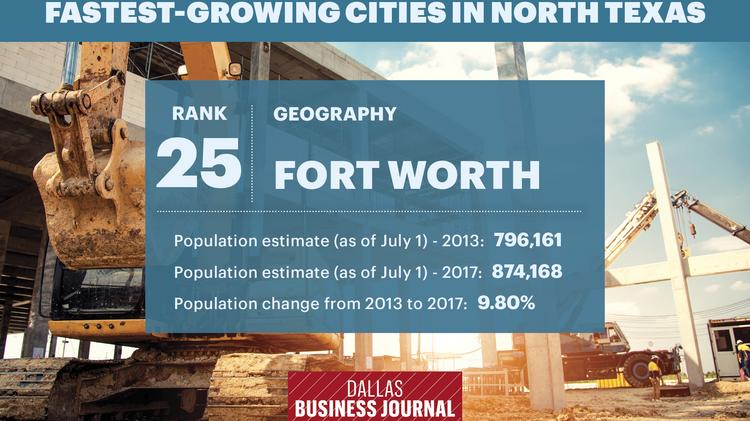 VIEW SLIDESHOW


25

photos
IN THIS ARTICLE

By
Taylor Tompkins
Data Reporter, Dallas Business Journal
Nov 29, 2018, 7:01am EST
The fastest-growing cities in North Texas are pushing farther to the outskirts of the region.
The Dallas Business Journal looked at cities with more than 10,000 people in the latest U.S. Census Bureau estimates and calculated the change in population between 2013 and 2017.
Over the past five years, the outer-lying areas, or suburbs, have grown as much as one and half times their original size. The cities with the largest growth tend to trend north, though there a few outliers.
Prosper led the charge, growing from just over 13,000 residents in 2013 to more than 20,000 in 2017. Made trendy in part by former Dallas Cowboy Deion Sanders, Prosper has grown more than 56 percent in just the past five years. And it doesn't look like the city is likely to slow down soon. The school district received top marks in the most recent grades from the TEA and subdivisions there are built complete with blue lagoons that are available to residents only.
Little Elm grew just above 40 percent from 2013 to 2017, with an estimated population of more than 33,000 in 2017. The town, which rests just off the shores of Lake Lewisville, has homes with a median price of $269,000, according to the Texas A&M Real Estate Center.
Fate, Anna and Princeton filled out the top five, all growing more than 30 percent. Frisco and McKinney were the only two cities to crack the top ten that had a population of more than 35,000 residents.
You can see the top 25 fastest-growing cities in North Texas in the gallery at the top of this story.
To explore all 74 of the fastest-growing cities in North Texas, see the List below:

Ranked by Population Growth Rate 2013-2017
Rank
City
Population Growth Rate 2013-2017

1

Prosper

56.0%

2

Little Elm

40.6%

3

Fate

37.4%
View This List